LAMINAR FLOW: Vertical Laminar Air Flow system provides operation in sterile and particle free conditions by continuous flushing of working area of unidirectional vertical and ultra filtered airflow. It assures a full product protection.
Cleanliness
Class 100
Particle Retention
0.3 Micron & Above

Noise Level
65 decibel ± 5
Velocity
90 Feet/Minute ± 20
Worktable
By melamine laminated ply or Stainless steel
Front door
6mm clear acrylic or 3mm Poly carbonat
Illumination
Fluorescent tubes with diffusers.
Other accessories
Manometer, Additional power point, gas inlet & Castors.
Power Supply
230V single phase, 50 Hz
HEPA Filter
Media Ultra clean glass fiber paper - imported
Casing
Epoxy coated CRCA frame
Separators
Fine corrugated aluminum foils
Retention
0.3 Micron
Efficiency
99.97%
PRE Filter
Media Synthetic, non-woven polyester fibers
Casing
Enamel painted CRCA frame Retention 10 - 15 Micron
Efficiency
90 %
Material of construction: Basic cabinet made from water proof commercial ply, with exteriors covered by industrial laminated

sheets & interiors coated with synthetic rubber paint over suitable primer base. We also supply the Laminar airflow with complete CRCA sheet metal construction with powder-coated finish. Blower Assembly: DIDW type blower system, which consists of dynamically & statically balanced aluminum centrifugal impeller driven by an single phase, 1440-RPM motor, enclosed in an powder coated MS casing suitably suspended in a pair springs & connected to the filter chamber through flexible canvas duct.
AIRTECH offers widest range of Laminar Airflow Equipments & Systems for the Application in the field of Scientific & Industrial Research, Micro Biology & Tissue Culture, Hospitals & Medical Education, Drugs & Pharmaceutical Industries, Electronics & Space Applications, etc. Our range of equipment & systems are designed with best of its quality & performance & are accepted by various Govt. & Private sector establishments across the nation.
Technical Details

Cleanliness
CLASS 100

Particle Retention
0.3 micron & above
Velocity
90 FPM + 20%
Illumination
750 - 800 lumen
Noise level
60- 65 decibels (A)
Vibration level
200 micron pp.
Standard
ISO 14644-1
Power supply
220V Single Phase
AIRTECH offers Laminar Flow equipment constructed by using industrial block boards with exterior surface covered by decorative laminated sheets & inner surface coated with synthetic rubber paint. Air tight joints are ensured by using best quality adhesives.

HEPA filters made of micro clean glass fibre paper of imported origin with fine corrugated aluminium foil separators. Pressure drop will be 23 mm WG. Pre & filters are manufactured by using synthetic non woven polyester fabric material with HDPE mesh reinforcement on both sides. Both the filters are protected by suitable grill arrangement.

Blower assembly consists of a single phase,double shaft motor, directly coupled with a pair of centrifugal type aluminium impeller & enclosed within a specially designed MS casing.

Optional accessories includes Stainless steel work table in lieu of Laminated table, UV lamps, Clear acrylic front doors, Standard accessories includes power points, Pressure manometer castor wheels or leveling screws, illumination, side screens etc.

Horizontal flow model with bottom stand arrangement. This type of Laminar air flow benches are used for tissue culture applications. It provides more leg space & thereby helps to keep the surrounding clean. Vibration is reduced to a very minimum level by keeping the total work station on a heavy duty structural work. The stainless steel work table is isolated from the main unit. An optional steri-pot holder can be provided below the work table with control switch located adjacent to that.
Specifications

Cleanliness
Class 10000 (& Class 100)
Velocity
30 Mtr. / Sec.
Lighting
By Fluorescent tubes - 2 x 20 W
Shower timing
0 To 120 Seconds - Adjustable
Vibration
200 micron PP
Sound Level
70 Db A+./- 5%
Blower capacity
1200 CFM
Pressure
75 mm WG
Powered By
2 HP, 3000 Rpm Motor.
Make
KIRLOSKER / CROMPTON
Power Supply
415 V, 3 Phase
MATERIAL OF CONSTRUCTION Cabinet by Water Proof Commercial Ply in Teak Wood Structure. External surface covered worth industrial laminated sheets and air plenum surface coated with synthetic rubber paint over suitable primer base.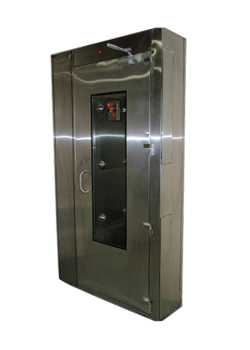 Platform covered by aluminium grated or PVC mat flooring and door are made of 6 mm clear glass in aluminium pipe with automatic door closures & manual locks.
Pre filter made from synthetic polyester non woven fiber, particle retention 10 to 15 micron. Efficiency 90%, Pressure Drop 6 mm WG.
HEPA FILTERS are made of micro clean, glass fiber paper of imported origin, Particle Retention 0.3 Micron & above pressure drop - 23 mm WG.

CONTROLS
Motor by DOL Starter, Doors by Electromagnetic Interlocking. Overload Protection by thermal relay. Shower duration by preset electronic timer. Shower operation by push buttons. Emergency off by mushroom head push button.
Invisible dust has a telling effect on sensitive electronic equipment. It goes without saying prevention is always better than cure.
Dust prevention is no longer a luxury but a necessity in almost all spheres of life.
Aircutain is a must for:

Pharmaceuticals & Food Industries
Laboratories
Clean Rooms
Computer Facilities
Cold Storages
Show Rooms & Restaurants 
Electrical & Electronic Industries
Hospitals
Positive pressure modules are designed to provide a clean area within a small enclosure or cell. These pressure module adopts the same LAMINAR AIR FLOW principle.

Pre filters are fixed at the rear end of the unit and the blower assembly used in the system sucks the air & passes to the HEPA filter chamber where the air is filtered to the maximum level.
Dimensional Details

HEPA Filter size

Media Ultra clean glass fiber paper - imported

Casing

As per Specific Requirement

Particle retention

0.3 micron

Cleanliness

CLASS 100

Overall

CLASS 10000

Power supply

220 V. Single phase
The Basic cabinet is fabricated from pre treated industrial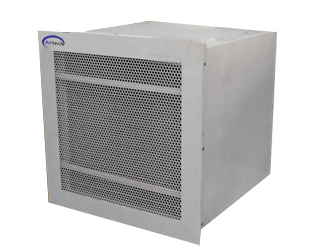 block board with exteriors covered by decorative laminated sheets & interiors coated with synthetic rubber paint. Alternatively, the total construction may be of CRCA sheet metal with suitable MS structures finished by epoxy paint or powder as per requirement.
Material of Constructions : Basic cabinet structure is made of; suitable thick, commercial ply panels both sides laminated with industrial laminated sheets.

PRE FILTERS made from high efficiency, non woven synthetic polyester fiber medium, both sides reinforced with fine HDPE mesh. Particle retention 10 to15 micron at 90% efficiency at rated velocity.

HEPA FILTERS made from micro-glass fiber medium of imported origin with fine aluminium corrugated foil separators. Collection efficiency will be not less than 99.97% for particle sizes of 0.3 micron & above. Pressure drop will be 23 mm WG.
| | |
| --- | --- |
| AIRTECH offers a wide range of FUME EXHAUST HODDS to suit every specific application of the user. The hood is fabricated from; water proof commercial quality ply & block boards externally covered with industrial laminated sheets and interiors coated with epoxy paint over a suitable primer base . The inner walls of the working chamber is covered with epoxy coated asbestos or FRP or HDPE lining or as required. The working table is made of acid proof glazed tiles and provided with gas/air petcocks and additional power points, diffused fluorescent tubes. | |
The front shutter is of shatter proof clear glass, framed in suitable wooden structure with vertically sliding facility and is connected with counter weight balancing arrangement.

The exhaust system consists of a dynamically balanced centrifugal impeller, made; of PVC/FRP, directly coupled with a TEFC industrial motor of 1440 RPM phase 415 and control led by a DOL starter with systems ranges from 500 CFM to 1250 CFM or above as it is proportional to the dimensions of the hood.

Clean air Fume exhaust hoods are provided with suitable ducting of FRP or PVC material with required diameter and length as per the site conditions.

Clean air Fume exhaust hoods are also available with full FRP construction or combination of FRP and Ply, With or without work bench. We also design and manufacture Scrubbers, Fume Extraction & Dust Collection Systems.
Powder Containment booths are used to control the hazardous emissions of powder dust during powder dispensing/sampling processes with out any risk to the operator and product as well protecting the environment. The down draught of HEPA filtered air prevents airborne dusts caused by handling operation away from the operator breathing zone. The air forced downwards is extracted at low level into the booth's filteration system, where dust particles are contained at three level of filteration prior to being circulated back in to the booths air stream.
Type
Front Open
Direction of flow
Vertical
Material of Construction
S.S 304 / S.S 316 or CRCA Powder Coated

Cleanliness
Class 100 as per US FED STD 209E
Particle Retention
0.3 micron & above
Noise Level
65 dB on On Scale 'A' ± 5
Velocity
90 FPM ± 20 %
Illumination
Fluorescent tubes diffusers
Pressure Differential
0-25 mm inclined Manometers / Magnehelic Gauge
Power Supply
230 V single Phase , 50 Hz
Pre-Filters
10 - 15 micron rating,3- Layers of HDPE mesh, 6mm Pressure Drop
Intermediate Filters
3 micron & above,two layers of HDPE woven mesh and one layer of Non-woven polyester Bondex Media, 9 mm Pressure Drop, Efficiency 97%
Supply HEPA Filters
99.97% efficiency @ 0.3 micron rating
Exhaust HEPA Filters
99.97% efficiency @ 0.3 micron rating
Blower Assembly
Statically & Dynamically balanced DIDW type blower system
Special Features
Designed in accordance with WHO-GMP
3-Stage Filteration like Pre filter, Fine Filter, HEPA filter
Heavy duty Low noise motor blower assembly
Suitable to accommodate to floor & table balances
Also called clean air tent, these units serves the purpose of relatively a smaller clean room and are available in a ready to assemble configurations. These units can be moved from place to place & finds extensive applications in the areas of automatic filling stations & packing sections of a pharmaceutical industry, assembling sections in the electronic industries, post operative patient care in hospitals and many other places here the product safety and processing, demands a high level of cleanliness around and where the process activity does not emit any level of contaminants into the local atmosphere.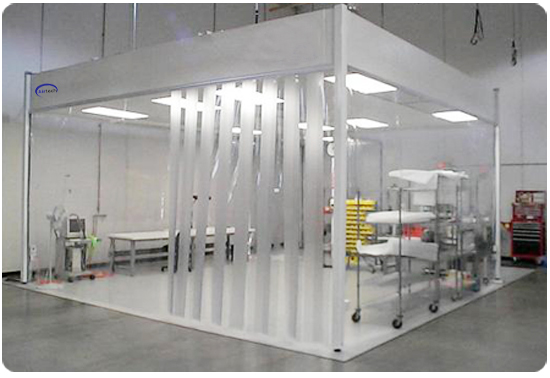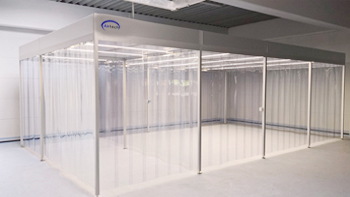 Clean air tents are generally used within a CLASS 10000 clean rooms, in which a specific area where the manufacturing & processing activity is taking place. The entire ceiling is provided with HEPA filters and at least 600 air change per hour is maintained to provide an absolutely clean & CLASS 100 condition inside within minutes after the system is switched on. This type of clean air tents are fabricated in various sizes to accommodate the requirement of the site conditions.The complete structure is made of heavy duty ERW square tabular sections. The strong castors with brake, provided at the bottom enables the total unit to move from place to place. These types of work stations are useful for small volume filling of the vials and in convey or type filling sealing machines and in bottling & sealing of IV fluids etc., in the pharmaceutical industries and in the manufacturing of medical gloves & instruments etc.
Air tents,
work station also called Clean Air tent, these units serves the purpose of relatively a smaller clean room and are available in a ready to assemble configurations. These units van be moved from place to place & finds extensive applications in the areas of automatic filling stations & packing sections of a pharmaceutical industry.

The pre-fabricated Vertical Flow Laminar Air Modules are available in different sizes and in different materials of construction to suit wide range of industrial applications which demands very hygienic and clean environment for any specific process activity Provides CLASS 100 clean air flow for any specific applications such as for production machinery, filling line, packing, sealing in pharmaceutical industry, micro-electronics, food processing, space application etc

Air tents, are using at hospitals and operation theatres mostly used in kidney transplantation, Orthopeadics operations.
Provided with or without strip / plain curtains - made of clear PVC flexible screen

Available in wide range of sizes to suit any application
Available in self standing or ceiling suspended types
Available in SS or MS with PU painted constructions
Pass through box is designed to minimize traffic and contamination entry into the clean room. Enables parts, tools and other work items to be passed to and from the room.

Unit acts as an air lock device preventing ambient air from entering, or clean air from exiting the clean room.
Standard features includes

Mechanical interlocking for the doors
Swing type doors with view panels
Door open indicator,
Optional UV lamp
Fluorescent tube light etc.
Available in Static & Dynamic versions
Available in Different sizes to suit customer requirement
Available in complete SS or MS with PU painted construction
Worktable made of polished stainless steel or melamine laminated ply door made od clear acrylic and provided with see- through window

UV lamp
1 no, 30 watt

Fluorscent tube
1 no, 20 watt
Gas cock
1no
Front door
clear acrylic - double folded type
| | | |
| --- | --- | --- |
| | | uv chamber |
| | | |